Introduction
This chapter introduces the Raspberry Pi 5G Development Kit, its features, and application areas.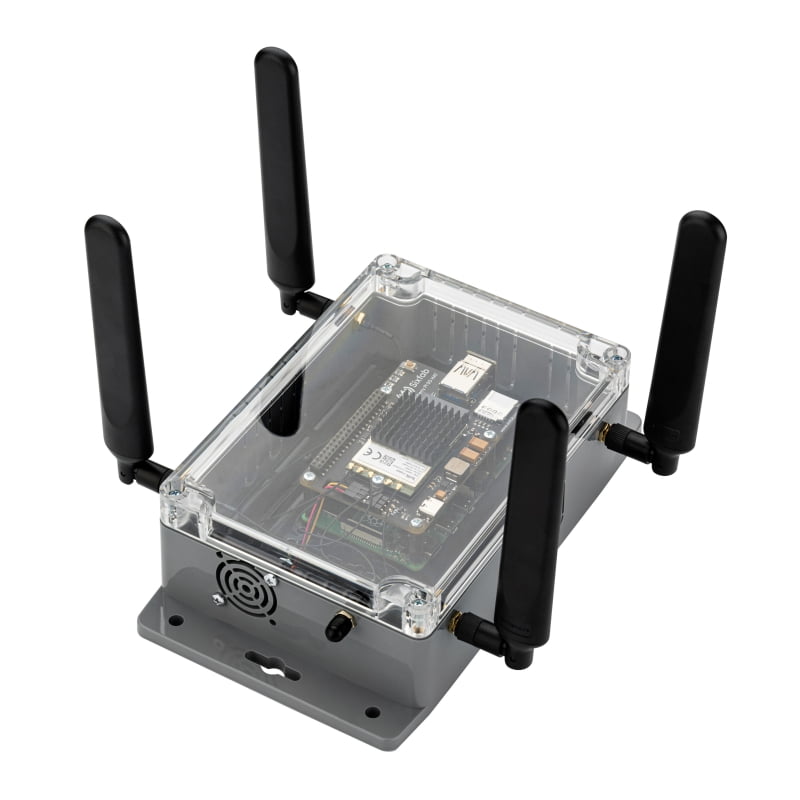 5G Development Kit is for M.2 package 5G modems designed to work with the Raspberry Pi. It allows you to develop, trial, and test your ideas on this platform in preparation for the commercialization of 5G devices and networks.
The Raspberry Pi 5G M.2 Development Kit connects easily over M.2 to any host application with high bandwidth requirements. Cellular 5G is simplified providing immediate connectivity – just plug it in, power it up, and unleash complete design flexibility. You can choose different interfaces, switch antennas, and change SIM cards to suit your needs but all you need to connect to 5G is in this kit.
The Raspberry Pi 5G Development Kit contains:
Indoor plastic project enclosure
Mounting Bracket inside Enclosure for Raspberry Pi and Peripheral electronics
Raspberry Pi 5G HAT
M.2 5G Modem (Optional) – Quectel RM50xQ
5x LTE/5G High-Performance Antenna – SMA Connector
5x Adapter Cable for Modem to SMA Antenna Connection
USB 3.0 Bridge for Raspberry Pi to Modem Carrier HAT
Cooling Fan
Heat Sink for 5G module and Raspberry Pi
Standoffs and screws
5V DC – 3A Type-C Power Supply with Universal Plug – Interchangeable
Notes
The Raspberry Pi is not included!
We developed the Raspberry Pi 5G Development Kit to ensure fast implementation of your ideas with 5G.
Features
Fully compatible with Raspberry Pi 4
Easy-to-use, simple setup
Option to select the appropriate voltage for the modem
5G/4G/3G communication support, optimized for IoT and eMBB applications
Provides heat dissipation with indoor project enclosure and cooling fan and heat sink and comes with it.
Support Windows/Linux/Android operating systems.
5G up to 2.1 Gbps downlink/450 Mbps uplink — speed data will vary depending on the modem used.
Enhanced AT commands support
It has a built-in GNSS(GPS/GLONASS/BeiDou/Galileo) receiver for your location-based applications.
Micro SIM Card socket can easily be reachable on the upside of the HAT
4x LEDs, help as indicators while using the HAT
Max. operating and storage temperature: -20°C to 70°C
Key Application
Video/Music Streaming
Large Data Downloads and Uploads
Healthcare
Logistics
Automotive
Real-time Environmental Monitoring
Smart City & Agriculture Applications
Entertainment and Multimedia
5G drones
Immersive entertainment
IP broadcasting
Energy preservation
---